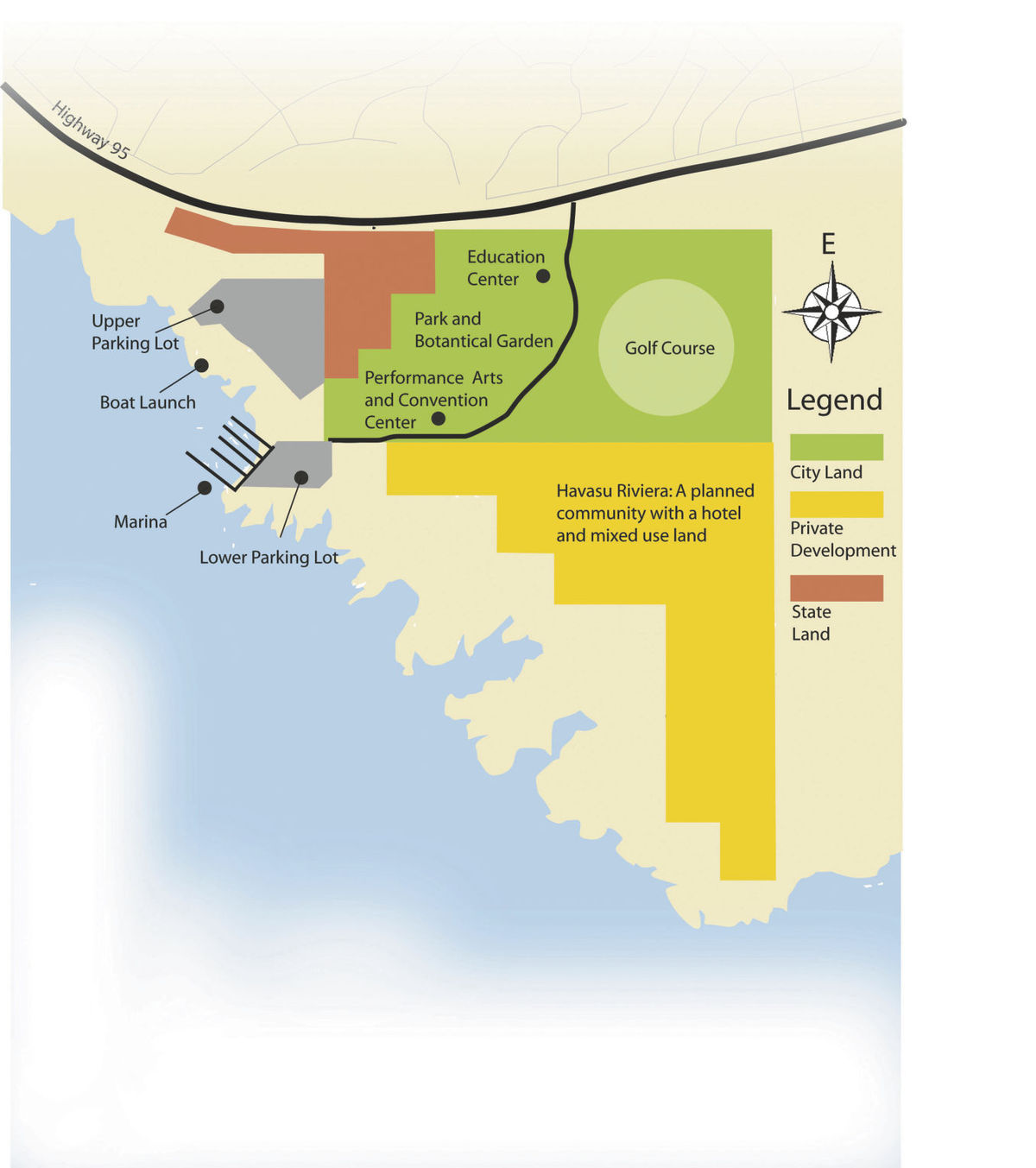 After several years in the making, the Havasu Riviera (or Havasu 280) is about to get underway! Nestled between Highway 95 and Lake Havasu and terraced above the shores of the lake it's a project that will deliver all you expect from the Lake Havasu area and then some! The rugged beauty, the casual lifestyle and the flowing warm waters that make up Lake Havasu! We expect the project to have a huge economic impact for the city and state. The Havasu Riviera and Havasu 280 project will envelop a total of 550 plus acres on the southside of Lake Havasu City. It will take over 10 yrs to complete the 3 different phases; groundbreaking is already complete with the start of the roadway construction. Contact Point Marina and boat launch is expected to be complete by 2020.
The masterplanned community is designed to include residential units of mixed use with single family, condos, multi family zoning, a 300 unit resort hotel with dramatic lake and desert views, surrounded by natural open space featuring 2 miles of shoreline-fronting property.
Residents and visitors will appreciate the new waterfront amenities and lake access including a marina, new 200 slip boat storage, dry storage facility, lakefront restaurant and bar and a much needed new 6 lane boat launch. Future projects will feature fun and educational extras to the project including a botanical garden, golf course, trails, multi use paths , public parks and landscaping that will connect central Lake Havasu City to the Riviera and the lake. Also planned is a waterfront restaurant and bar.
Havasu Riviera is a public/private venture between Lake Havasu AZ State Park and Komick Development. There are 3 phases to the project, which totals over 550 acres. A unique project for the Lake Havasu City area, the resort community is a residential project developed by Komick Development. The waterfront amenities of marina and boat launch are located at Contact Point, an AZ State Park public/private partnership. The rest of the project is also known as the Havasu 280, 280 acres of recreational and educational development.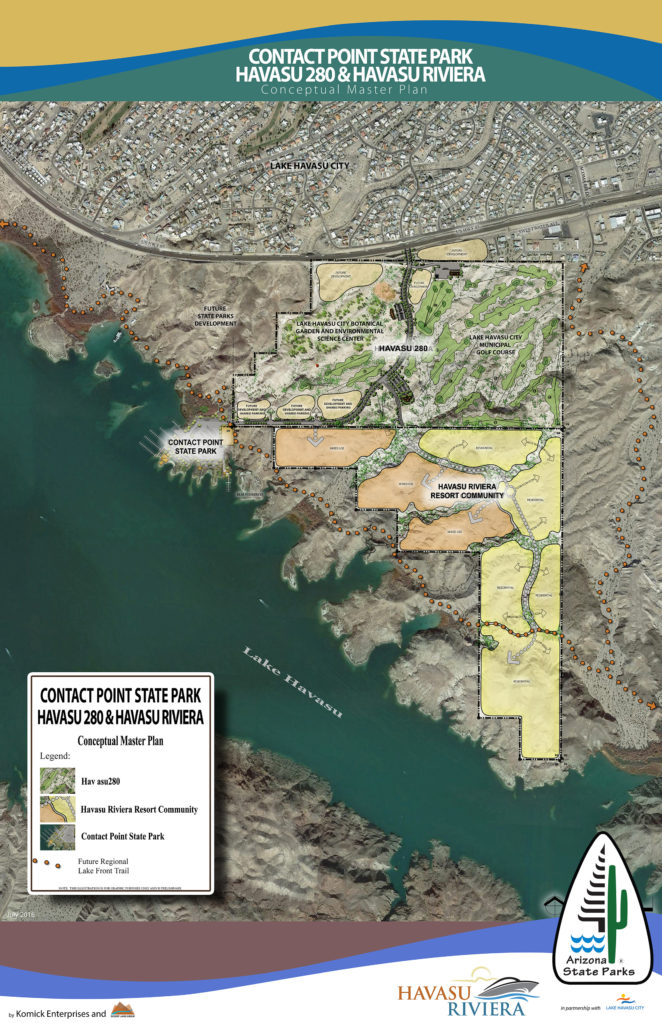 12/12/16 Riviera from Desert Land Group on Vimeo.
Vision 20/20 Lake Havasu City from Desert Land Group on Vimeo.
360 Panorama from Desert Land Group on Vimeo.
Contact Point from Desert Land Group on Vimeo.
Havasu Riviera - Marina awaits approval, grading done
by Haley Walters, Todays News Herald
It's easy to forget about the Havasu Riviera project, which has been quietly taking shape behind a large dirt berm off of State Route 95 for the past
four months.
Portions of the 550-acre planned development, formerly referred to just as Havasu 280, are scheduled to open next spring. Its three components –
the Havasu Riviera Resort Community, Contact Point State Park and the 280 acres of public space – have all reported progress in the past quarter.
The entire project is expected to be completed in phases over the next decade.

Havasu 280
The city has committed to providing infrastructure for the Riviera project and also hopes to construct an environmental learning center, desert
botanical gardens, trails and a possible municipal golf course with the help of private partners.
Land grading and drainage infrastructure for the site was recently completed under a $1.2 million contract with CLM Earthmovers. Another $35,000
was then spent to grade a pad for the environmental learning center, City Manager Charlie Cassens said.
According to budget projections, the city plans to spend $450,000 for a controlled intersection off of State Route 95 to open up the development to traffic.
Cassens said the access road and intersection is projected to be completed early next year in line with when the marina is scheduled to open.
  
3/19/2017 Havasu Riviera: Marina awaits approval, grading done | Local News Stories | havasunews.com
http://www.havasunews.com/news/havasurivieramarinaawaitsapprovalgradingdone/
article_61b2fbd00c6111e7891e035d8155f46a.
html 2/3

Contact Point State Park

Arizona State Parks Director Sue Black said her agency is expediting its commitment in the development to keep pace with the other partners involved.
"It's an aggressive schedule, but I appreciate their sense of urgency as opposed to some projects that can be lackadaisical," she said.
She estimated the marina, which is now undergoing the Army Corps of Engineers' approval process, will open next spring along with as many other
amenities as possible. State Parks is still deciding the logistics of how the marina will operate and any usage fees, she said.
At their most recent meeting, Black said stakeholders also considered the development's surrounding area – specifically the Water Safety Center
where the Western Arizona Law Enforcement Training Academy and Mohave County Sheriff's boating units are currently housed.
She said no final decisions have been made, but emphasized the importance of creating a cohesive shoreline.

Resort Community

The proximity to Lake Havasu's shoreline and scenic surroundings set the stage for a planned development resort community by Komick
Development and Desert Land Group, the same parties behind Havasu's Foothill Estates planned development.
Michael Gorden of Desert Land group said the waiting list of interested home buyers has exceeded 200 – altogether the final design calls for as many as 750 homes or units.
"We're not at the point where we're releasing lots or pricing information, but we've seen building interest and developing a marketing list," Gorden said.
A boutique hotel and a restaurant are also being negotiated. Gorden said three parties have expressed interest in the hotel portion of the
development and there are talks with three other parties – two that are local – on a planned lakefront restaurant.
Jim Komick of Komick Enterprises said he expects construction on some model reeidential units to be underway once the marina opens.
"Everything's progressing, and we're pushing to get that road opened up by the first quarter of next year," Komick said.