BOATS, BOATS, AND MORE BOATS!
http://www.golakehavasu.com/events/details/72/lake-havasu-marine-association-26th-annual-boat-show/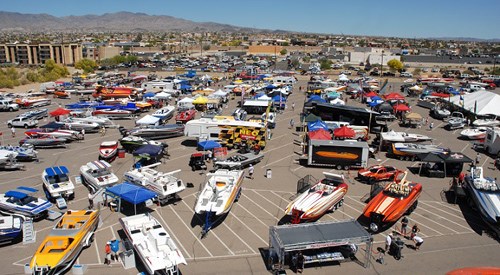 Lake Havasu is home to some of the best events around! Looking for something extraordinary to do this weekend? The 26th Annual Marine Association Boat show is Friday April 7th -Sunday April 9th. There will be lots of different kinds of boats available for oohing and ahhing over, and you can even ride in it before you buy it. Not only boats will be on display, but marine and boating accessories, paddle boards, kayaks, Aqua Lily, and i-floats. I'm wondering, does anyone water ski anymore? So many water toys out there these days! Windsor Beach #4 is the location with free parking, or if you boat in, you can pull up to the new Beach. Other activities included with the boat show are a Chili Cook-off/salsa contest (Saturday only) with a prize of $3,000 and an entry to the world chili cookoff, the IJSBA (jet ski) Gary Hart memorial competition, the coolest boat competition judged by the public, a life jacket swap by the AZ Fish and Game, and Saturday from 5-10 pm downtown on McCulloch Blvd there will be a block party with Hot Wheels races ($1,000 prize) and chance at a $3,500 spa.
The event is 12 – 6pm on Friday, 9 – 6 on Saturday, 9 – 3 on Sunday. $5.00 entry, kids 6 and under are free.