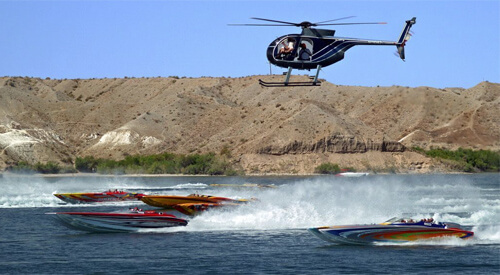 THE see and be seen event in the boating industry! Named "One of the Top Five Poker Runs in the Nation" by Performance Boats Magazine, the 19th Annual Desert Storm Poker Run & Shootout is a world-class collection of the most prestigious performance boats from across the nation! All performance boaters are invited to participate. The air will be buzzing with the racers' helicopter teams flying above the boats right above the water
.https://golakehavasu.com/event/desert-storm-poker-run-and-shootout/
Spectator boaters, please be extra careful if you're boating on the lake over the weekend as boat traffic will be unusually heavy – and fast. Personal watercraft drivers, if you plan on being on the water during the weekend's events, you are urged to peruse our Boating Safety section which provides specific laws pertaining to PWC's while on the water – Please don't jump wakes! All PWC's are legally required to stay at least 60′ from any vessel when outside a no-wake zone. Larger vessels have less control than smaller vessels.
THURSDAY EVENT DETAILS
Desert Storm Street Party: Located in Lake Havasu's Downtown District is ELECTRIC — and last year's turnout was over 10,000 people! Many of the boats racing will be on display up and down the boulevard and will take your breath away with their massiveness. Whether you enjoy viewing extreme sport boats or just want to speculate on who will win this year, you do not want to miss out on the excitement of the Desert Storm Street Party. Local restaurants, bars and shops will be open and activities include radio remote broadcasts, live music, plenty of food, refreshments, entertainment and shopping as well as vendors selling showing and custom autos, tow vehicles, personal watercraft, and a full range of marine electronics, products, and accessories.
FRIDAY EVENT DETAILS
Desert Storm "Parade of Power": 160+ boats are expected to participate in this year's event! Drivers will be displaying their boats on parade from Thompson Bay and through the Bridgewater Channel. The best views will be along London Bridge Beach, along the Bridgewater Channel, and at Windsor 4 with the Desert Storm announcer. The event master of ceremonies will be announcing the participants and describing their incredible boats as they pass the park. Live radio broadcast of the event will be on Radio Central as well. Other viewing locations include The Nautical Beachfront Resort, The English Village, and Rotary Community Beach.
Desert Storm Poker Run: After the parade, the drivers will be taking off for the Poker Run, picking up cards at various card stops on the lake. Poker stops: #1 Havasu Springs, #2 Steamboat Cove, #3 Chemehuevi Station, #4 Havasupai Station, #5 Thompson Bay. Card stops are open from 10:45am-2pm.
Power in the Park Festival*: Windsor 4 at Lake Havasu State Park, open 10am daily. The beach party will extend the Thursday Street Party as vendors and displays can/will move to Windsor 4. Events include:
Vintage Fuel Dragster Cacklefest: Three incredible Nitro Fuel powered, blown Hemi restored dragsters will be firing up for your pleasure!
Big O Tires Burnout Contest: Rounds of burnouts each day fininshing in a Final Burnoff Saturday for a cash purse. The playing field will be leveled and safety insured with competitors securely chocked to a hydro barrier and their wheels positioned on 1" thick steel plates! A good time will be had by all as they turn their horsepower into smoke and noise for your enjoyment!
Hundred Hot Vehicle Show: 100 of the coolest vehicles of all types for your pleasure. Street rods, muscle cars, side by sides, trucks, 4x4s, Harleys, boats – you name it and it'll be there.
Outlaw Grand National Boat Race: Right off of the beach at Power in the Park, these aquatic hot rods are a good fit with Desert Storm – their big, blown automotive V8 engines will roar as they heat up the water with their standing start just feet from you!
PWC Freestyle Show: In spite of their size, the Personal Watercraft Freestyle exhibitions will show you an incredible side of the JetSki sport. Real athletes will amaze you with what they can make their PWCs do, and they will do it twice a day in front of your eyes at Windsor Beach.
Flyboard Show: For your enjoyment the professional talented crew of Lake Havasu based "Water Buzz" will perform gravity defying tricks right off of the beach on Saturday and Sunday.
And…Boat displays, vendors, live music on the Flying X/JJJJ Hot Stage, beer garden, food vendors, and more!
SATURDAY EVENT DETAILS
Desert Storm Shootout: Drivers run a two-mile course starting near the Site Six Launch Ramp south along the California side of the lake. 30 different classes will be competing with over 67 runs, and the speeds are breathtaking! Best viewing for the Shootout will be on the surrounding bluffs on the Island near Site Six to Spectator Point.
Last year's King & Queen of the Desert went to Win Farnsworth, who set the official LHMA top speed record for Lake Havasu at 187 mph, by Low Altitude, a 50 ft turbine boat!
All spectator events are free! Event dates, times and/or details are subject to change. Please contact event coordinator or check the event website to verify information.
Details
Start:

May 1, 2017

End:

May 7

Event Categories:

Website:
Organizers
Jim Nichols, Lakeracer
Jim Russell, DSM Events